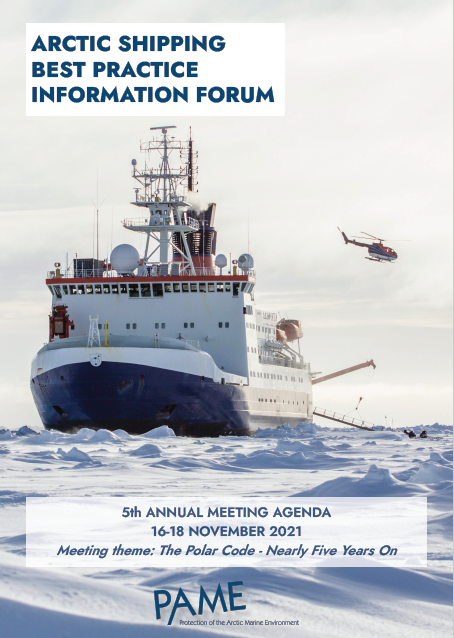 The fifth meeting of the Arctic Council's Arctic Shipping Best Practice Information Forum will take place via the GoToMeeting videoconference platform on 16-18 November 2021. The virtual meeting will convene each day at 14:00 GMT and conclude at 17:00 GMT.

This will be the first Forum meeting Chaired by Russia. The new Forum Chair is Mr. Sergey Tolmachev, Counsellor, Mission of the Russian Federation to the International Maritime Organization.
The meeting is for invited participants. If you would like an invitation, please e-mail the PAME Secretariat at This email address is being protected from spambots. You need JavaScript enabled to view it..
The Draft agenda has been made available here.
Fifth Forum Meeting - What to Expect
Speakers at the Fifth Forum Meeting will be asked to focus their presentations on firsthand experience and expertise in implementing, complying with, and/or making information available in support of the Polar Code since it entered into force in 2017. To the extent possible, presentations should also highlight the speaker's use of the Forum's web portal as a practical tool, and should draw attention to any complementary initiatives and identification of knowledge gaps underway in the speaker's organization or underway in other fora that might serve to strengthen both the interpretation and implementation of the Polar Code.
About the Forum
The purpose of the Forum is to support effective implementation of the IMO Polar Code by making publicly available on a dedicated web portal information relevant to all those involved in safe and environmentally sound Arctic shipping, including shipowners/operators, regulators, classification societies/Recognised Organisations, marine insurers, indigenous and local communities, and other interested parties. The theme of this fourth annual Forum meeting is: The Polar Code: Nearly Five Years On.
The Forum places particular emphasis on collecting information of use to Maritime Administrations, classification societies/Recognized Organizations in issuing Polar Ship Certificates and conducting Operational Assessments, as well as information used by shipowners and operators in developing Polar Water Operational Manuals.