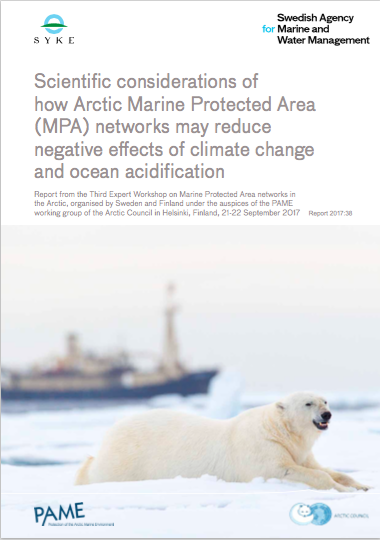 The Workshop on marine protected area (MPA) networks in a changing Arctic climate
was held at the Finnish Environment Institute (SYKE) on September 21-22, 2017.
The workshop was one in a MPA workshop series supporting PAME's work on studying best practices for linking area-based conservation measures to categories of Arctic marine biodiversity in support of the long-term conservation of the Arctic marine environment and associated services and cultural values. Key aspects of this collective work within the Arctic Council include ways to build and strengthen networks of MPAs in the context of climate change and ocean acidification, as well as incorporating traditional and local knowledge (TLK).
Click here to download the workshop report.
Aim
The aim of the workshop was to take stock of the current scientific understanding (including TLK) and identify important new research questions on MPA networks and how such networks, and other area-based measures, may be used to decrease the negative effects ofclimate change and ocean acidification and their interactions with other human induced stressors in the Arctic. The workshop also briefly touched on data availability related to these questions.
Outputs of the workshop will be published as:
meeting report that aims to contribute to the scientific basis for the potential of MPAs to meet the threats posed to Arctic ecosystems and livelihoods, and
a concise report card for targeted to decision makers and a wider audience.
| | | |
| --- | --- | --- |
| Name of presentation | Presenter | Download |
| SYKE - Finnish Environment Institute: Marine Research Center | Paula Kankaanpää | Download |
| How Arctic Marine Protected Area Networks may reduce negative effects of climate change & ocean acidification | Jessica Nilsson | Download |
| Arctic Climate Change | Michael Tjernström | Download |
| Acidification of the Arctic Ocean, the basis for AMAP Arctic Ocean Acidification case studies | Leif G. Anderson | Download |
| CBMP/ CAFF activities Update on work of relevance for PAME MPA work | Tom Christensen | Download |
| Ten-step recipe for creating and managing effective marine protected areas | Mark Carr | Download |
| Climate Change Report Cards - The Marine Climate Change Impacts Partnership Experience and Arctic Possibilities | John Baxter and Dan Laffoley | Download |
| Protecting marine areas beneath Antarctic ice shelves: Special Areas for Scientific Study | Susie Grant | Download |
|  The Journey towards a Weddell Sea Marine Protected Area | Thomas Brey | Download |
| The Ross Sea Region MPA | George M. Watters | Download |
| Networks, platforms and the winds of change: MPA's and climate change in the Baltic Sea (HELCOM) | HELCOM | Download |
| Barents Sea MMBI Research Cruises | Gennady Matishov | Download |
| Radioactive contamination issues in the Arctic | Nadezhda Kasatkina | Download |
Slide
Science and Tools for Developing Arctic Marine Protected Area (MPA) Networks: Understanding Connectivity and Identifying Management Models.
Understanding MPA Networks as Tools for Resilience in a Changing Arctic.
Scientific Considerations of how Arctic Marine Protected Area (MPA) networks may reduce negative effects of climate change and ocean acidification.
Exploring ways to support Indigenous/Local involvement in, and Indigenous/Local led, marine protection in the circumpolar Arctic Ocean.