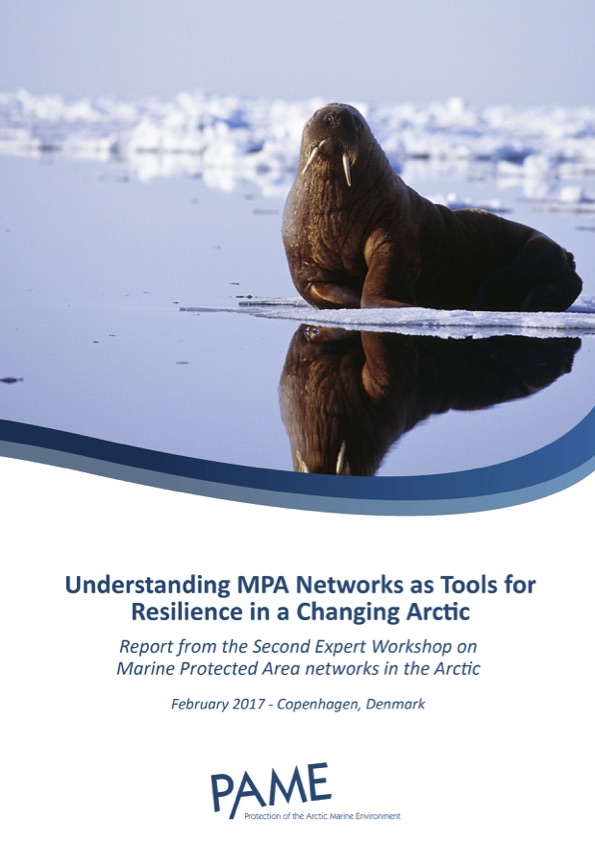 PAME's workshop
-
"Understanding MPA Networks as Tools for Resilience in a Changing Arctic,"
took place in Copenhagen, Denmark from 2-3 February 2017. The workshop is one in a series for which the
purpose
is to support a PAME project studying best practices for linking area-based conservation measures to categories of Arctic marine biodiversity in support of the long-term conservation of the Arctic marine environment and associated services and cultural values.
The workshop included:
a continuation of the discussion from the 1st workshop (held in September 2016) on approaches for understanding and managing spatial variability of ecological connectivity affected by anticipated climate change, as well as how MPA networks can help build resilience to climate change;
presentations and dialogue on what design elements are important to consider and include when developing MPA networks in a changing climate; and
the development of additional guidance that will be used to expand and refine the "MPA Toolkit."
Click here to download the workshop report.

Project Description
PAME's
Framework for a Pan-Arctic Marine Protected Areas Network document
recognizes that individual Arctic countries pursue MPA development based on their own authorities and priorities, and that MPA networks can be comprised of "both MPAs and other area-based measures that contribute to network objectives".
PAME's "toolbox" project aims to develop guidance to assist countries in advancing MPA networks in the Arctic. The project will produce this guidance in the form of a catalogue of examples of diverse existing area-based measures, including different types of marine protected areas and of "other area-based conservation measures" that contribute to the long-term conservation of important categories of Arctic marine biodiversity (e.g. important species and habitats).
Over the course of the 2015-2017 work cycle, project leads hosted two workshops. While the first workshop focused on toolbox development by identifying and mapping types of connectivity in the Arctic, the second focused on connectivity and climate change. The toolbox is intended to be a living document that will be expanded and refined over time.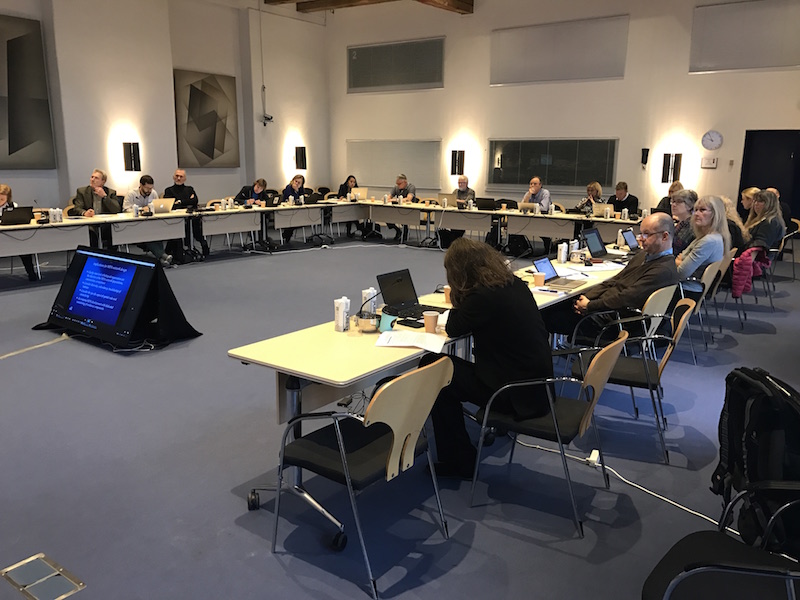 Workshop Objectives
Develop our understanding of ecological resilience and how MPA networks can help support it.
Develop our understanding and principles to guide management of MPAs and MPA networks to enhance ecological resilience in a changing environment.
Develop our understanding of key elements for designing MPA networks that support ecological resilience in a changing environment.
Identify priorities for future scientific and/or other collaboration to apply knowledge and guidance to MPA network design.
Identify potential next steps to advance understanding of how MPA network design and management can support ecological resilience to a changing environment.
Name of presentation
Presenter
Download
Resilience– an introduction
Martin Sommerkorn (WWF Arctic Programme)
Download
Overview of Impacts of a Physical constrains of productivity in the Arctic Ocean: Changing Environment on the trajectories into the future? Biodiversity
Paul Wassmann (UiT - The Arctic University of Norway)
Download
MPAs and Networks as tools for resilience 
Dan Laffoley (IUCN)
Download
Ecological Connectivity and Resilience: Implication for Marine Protected Areas
Mark H. Carr (University of California, Santa Cruz)
Download
Resilience through an MPA Network: A Hawaii Case Study
Todd Stevenson (Circumpolar Conservation Union)
Download
PAME's MPA network toolbox through a resilience lens
Martin Sommerkorn (WWF Arctic Programme)
Download
Valuable and vulnerable areas: the case of the Barents Sea
Cecilie H. von. Quillfeldt (Norwegian Polar Institute)
Download
Working Toward Resilient Marine Protected Area Networks In the US Arctic
Lauren Wenzel (National Marine Protected Areas Center)
Download
MPAs and MPA Networks for Resilience - Canadian Case Studies and Opportunities
Nadine Templeman (Fisheries and Oceans Canada)
Download
Designing network of MPA in the Russian Arctic to support ecosystem resilience.
Irina Onufrenya (WWF Russia)
Download
Resilience and Connectivity Values of MPAs: Planning for Top Trophic Marine Animal Conservation in the Barents Region and Beyond
Kit Kovacs (Norway)
Download
Guidelines for Designing MPA Networks to Promote Resilience of Arctic Marine Ecosystems in a Changing Climate
Lisa Speer (Natural Resource Defense Council)
Download
Building Resilient MPA Networks – Summary of Commission for Environmental Cooperation Reports
Dr. Ellen Kenchington (Canada Bedford Institute of Oceanography Dartmouth, Nova Scotia, Canada)
Download
Ecosystem Resilience
What is it and how can we measure it?
Benjamin Planque (Institute of Marine Research - Norway)
Download
Modeling Tools for Designing for Resilience – Connectivity Under Changed Conditions
Patrick Halpin (Duke University)
Download
Slide
Science and Tools for Developing Arctic Marine Protected Area (MPA) Networks: Understanding Connectivity and Identifying Management Models.
Understanding MPA Networks as Tools for Resilience in a Changing Arctic.
Scientific Considerations of how Arctic Marine Protected Area (MPA) networks may reduce negative effects of climate change and ocean acidification.
Exploring ways to support Indigenous/Local involvement in, and Indigenous/Local led, marine protection in the circumpolar Arctic Ocean.