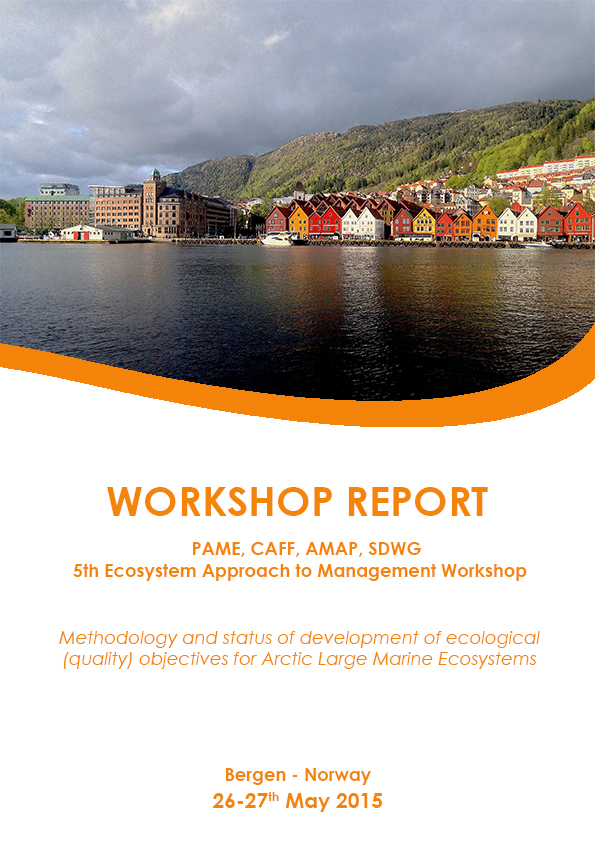 PAME has released a workshop report from the Ecosystem approach expert group. The 5th EA workshop was held in Bergen, Norway, in May 2015. The focus of the workshop was on the topic of ecological objectives which is addressed through summaries and reviews of existing management objectives related to living resources and the environment in current management systems and legislation, and by reviewing the state-of-the-art in developing more comprehensive sets of ecological objectives.

Click here to download the report.

The workshop objectives were to:
1. Review existing management objectives for use of living and non-living resources, environmental protection and nature conservation in national legislation and management systems.

2. Review developments and methodologies for defining a comprehensive set of ecological objectives as a step in implementing a more holistic management approach, e.g. the EA.

3. Review/learn about the principles and values embedded in the use and management of living resources and the broader environment by indigenous peoples of the Arctic.
Click here to download the report.

See also:
The Ecosystem Approach
EA Documents and Reports
PAME's EA Community of Practice