(From left to right): Dan Slavik, Jon L. Fuglestad, Stanislav Formin, Joclyn Paulic, Alf Håkon Hoel,
Tomomi Nomaki, Erik Olsen, Phil Mundy, Catherine Coon, Karoline Andaur, Takashi Kikuchi,
Hein Rune Skjoldal, Maryann Fidel and William Koeoppen (Photo: Bjarni Eiríksson / PAME)


The Protection of the Arctic Marine Environment Working Group (PAME), held its 4th Ecosystem Approach workshop in the beautiful city of Vancouver, British Columbia, Canada, 16-18 of June 2014. The subtitle of the workshop was; Integrated Ecosystem Assessment (IEA) – Understanding National Approaches and Reviewing Progress on IEA in Arctic LMEs straddling national boundaries: The Beaufort and Barents Seas.
Members of the PAME led Ecosystem Approach Expert Group included representatives from Canada, Norway, the United States, the Aleut International Association, AMAP and CAFF working groups, in addition to experts from a number of institutions, including the WWF and the Japan Agency for Marine-Earth Science and Technology. The workshop also received input via video link from experts who could enjoy the pleasantly of their home office and still make a valuable contribution to the workshop.
The three day workshop included sessions on;
An overview of the history and approaches of Ecosystem based management (EA/EBM) and integrated ecosystem approach (IEA), and current projects on EA/EBM and IEA within the Arctic Council.
The national overviews from the Beaufort, Approaches to IEA in the Beaufort Sea.
National overviews from the Barents, Approaches to IEA in the Barents and
Discussions and Lessons learned.

The workshop report will soon be available on the PAME website (www.pame.is).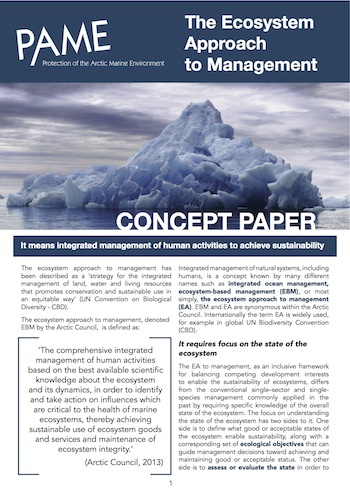 PAME has published a Concept Paper on Ecosystem Approach to Management of the Arctic marine ecosystems. This Paper defines the EA approach and identifies the framework for implementation of the EA in the Arctic and emphasizes the following main elements that can be seen as steps in an iterative implementation cycle: • Identify the ecosystem
• Describe the ecosystem
• Set ecological objectives
• Assess the ecosystem
• Value the ecosystem
• Manage human activities
Large Marine Ecosystems (LMEs) represent the appropriate and primary units for applying the ecosystem approach to management of the marine environment recognizing that it accommodates management at other spatial scales. The LMEs offer a framework for doing this in a structured manner from both scientific and management perspectives. The overall state and integrity of the ecosystem is a reflection of the status of species and habitats and their interactions at all appropriate scales within the LME.

Click here to view or download the Concept Paper from the PAME website.

Click here for more information about the ecosystem approach.