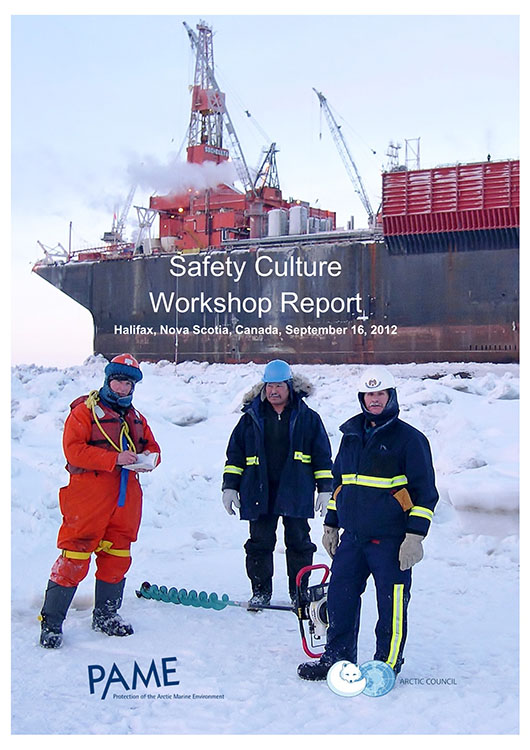 PAME's Safety Culture Workshop was conceived as a result of the discussions and conclusions of the Health Safety and Environmental Management Systems (HSEMS) Workshop. The purpose of the workshop was to inform the PAME HSEMS Project on "safety culture" in the Arctic offshore oil and gas industry, which was identified as a fundamental issue for safe and environmentally sound operations at the HSEMS workshop.

The one-day workshop was held in conjunction with the PAME II 2012 Halifax Meeting September 16. It consisted of a group of invited experts and stakeholders and presentations from various industries and government bodies who provided information on the subject of "safety culture" as it applies to the prevention of systems/process failure accidents and pollution incidents.

The group collectively discussed the implications of the presentations and other expert opinions for improving Arctic offshore operations and provided advice to the PAME HSEMS project group on recommendations to improve system/process safety.





Safety Culture
What is it?
Not just Safety, also foundation of Environmental protection
For process failure accidents, occupational indicators are not reliable
"Culture is what you do when no one tells you to do it"
A "black hole" that you can't see but can see evidence around it.
From corporate board room to rig floor, operator to contractor.
How can it be instilled and implemented?
Defined and incorporated in Health Safety and Environmental Management Systems
Training
Incentives
On par with economic concerns in the company
How can it be measured/monitored/audited/verified?
Performance measures, leading and lagging.
Incentives ("Catch someone doing something good") How can it be enforced/improved?
Audits: in-house, third party, government
Indicators: need to develop and/or standardize including "near-miss" definition and reporting requirements
And:
What can we learn in the Arctic from the Deepwater Horizon and other offshore drilling accidents?
What can we learn in the Arctic oil and gas industry and regulatory community from other industries and activities such as Naval, Aviation and Nuclear?
What is the advice regarding Arctic offshore operations that can be given to regulators and policy makers?
Presentations: