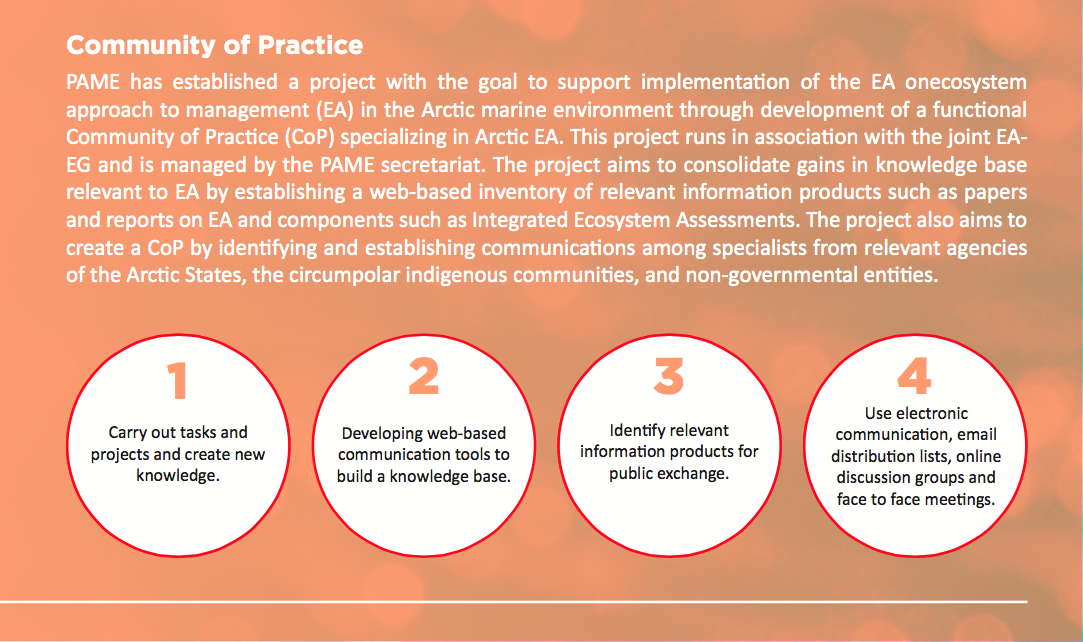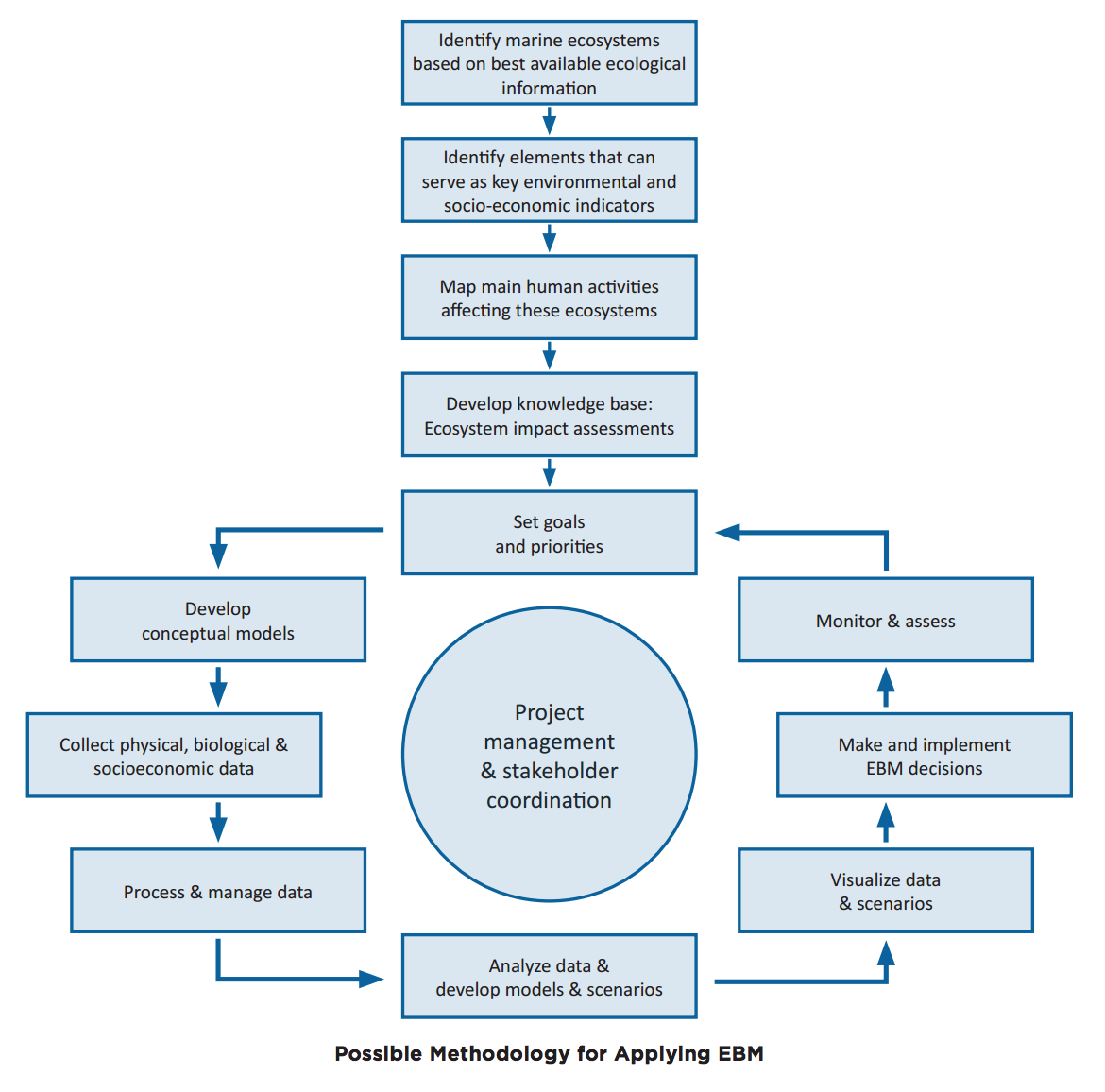 The Circumpolar Community of Practice (CoP) initiative supports the implementation process of the Ecosystem Approach to Management (EA) in the Arctic. The EA approach is discussed in more detail here on the PAME website.

Click here for the CoP Information Brochure.

It is defined as:
"the comprehensive integrated management of human activities based on the best available scientific and traditional knowledge about the ecosystem and its dynamics, in order to identify and take action on influences which are critical to the health of marine ecosystems, thereby achieving sustainable use of ecosystems goods and services and maintenance of ecosystem integrity."

The implementation process is a complex large-scale process with multiple levels. One of these levels is the creation and development of a functional community of practice, defined as a "group of people who share a concern or a passion for something they do and learn how to do it better as they interact regularly."
The Ecosystem Approach to Management explained:
This particular CoP shares a passion for the EA and the Arctic.
The goal of CoP is therefore to support the ultimate goal of PAME - to implement the EA in the Arctic.
Our goal will be realized when CoP has developed a functional community of practice, specializing in Arctic EA, which is routinely advising all significant types of Arctic development activities.


One of the main tasks of the project is to recognize the current circumstances, i.e what the Arctic Council has done in the EA implementation process. Therefore, CoP has identified essential steps as a focal point in its work, first:
To consolidate gains in knowledge base relevant to EA since formation of the Arctic Council
Developing web based communication tools (including a website and other relative products - building a knowledge base)


Identifying the relevant information products (includes the creation of an online network for public exchange (LinkedIn)


Vetting them with the people of the network (through personal contacts and relative media)


Communicating the outcomes of the vetting process (through reports etc.)
In addition, this objective will be followed up with workshops, as a continuation of a series of workshops initiated in 2011, to understand the application of the EA in the Arctic among Arctic Council States.

Among products the CoP will produce are

Click here for the CoP Information Brochure.
PAME and EA
PAME has worked towards the implementation of the EA in the Arctic for numerous years. PAME has been in the forefront for the Arctic Council towards EA implementation since 2002. EA was a core principle in the Arctic Marine Strategic Plan (AMSP) in 2004 and in 2006 a total of 17 working maps were made on the Large Marine Ecosystems of the Arctic - which were then revised in 2013.An EA/LME Expert group was formed in 2007 and in 2011 the first in a series of workshops on EA in the Arctic was held. One has been held each year since then.