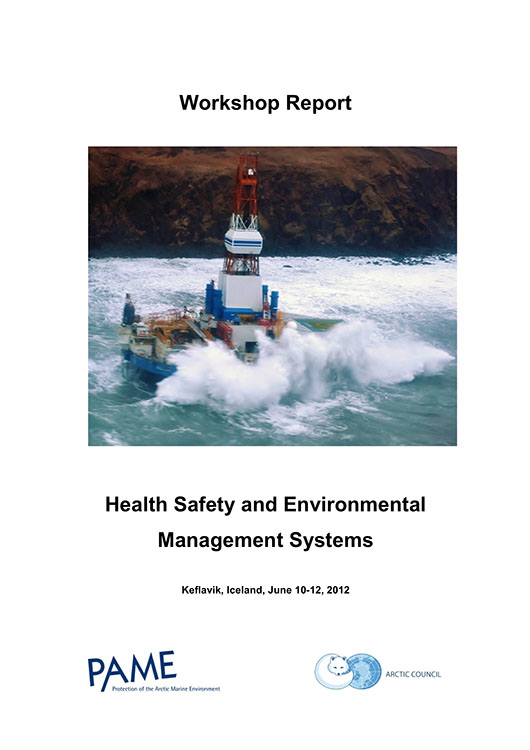 PAME held a Health Safety and Environmental Management Systems (HSEMS) Workshop in Keflavik, Iceland 10-12 June. The agenda of the workshop was coordinated with the related EPPR Recommended Practices for Prevention oil Pollution (RP3) workshop also held in Keflavik 11-12 June to facilitate the opportunity for oil and gas experts to attend and contribute to both workshops.

The meeting was attended by 22 people and featured 10 invited presentations.Attendees included representatives from the U.S. National Academy of Engineering, PAME, EPPR, indigenous peoples organizations, national coast guards, environmental protection offshore oil and gas regulatory agencies, academia, and oil and gas associations.

The HSE workshop began the 10th of June with presentations on topics such as Deepwater Horizon assessments and investigations, offshore drilling, and the national Health Safety and Environment (HSE) management systems currently in place in Norway, Greenland, United States and Canada and the HSE sections of the Arctic Council Offshore Oil and Gas Guidelines, 2009. During day two, the background and status of the EPPR RP3 project was presented along with the PAME HSEMS project.


[button type="default" size="default" link="images/03_Projects/Offshore_Oil_and_Gas/HSE_Workshop_in_Iceland_2012/HSE_Workshop_Report_final.pdf" target="new"]Download Workshop Report (PDF) [/button]






The main single message from the workshop was answering the question of what is the government's and Arctic Council's role in how to improve "Safety Culture" in the industry.

[button type="default" size="default" link="images/03_Projects/Offshore_Oil_and_Gas/HSE_Workshop_in_Iceland_2012/2 pager on the PAME HSE Workshop 10-12 June 20121.pdf" target="new"]Download The Workshop Summary (PDF) [/button]