Systems Safety Management and Safety Culture Report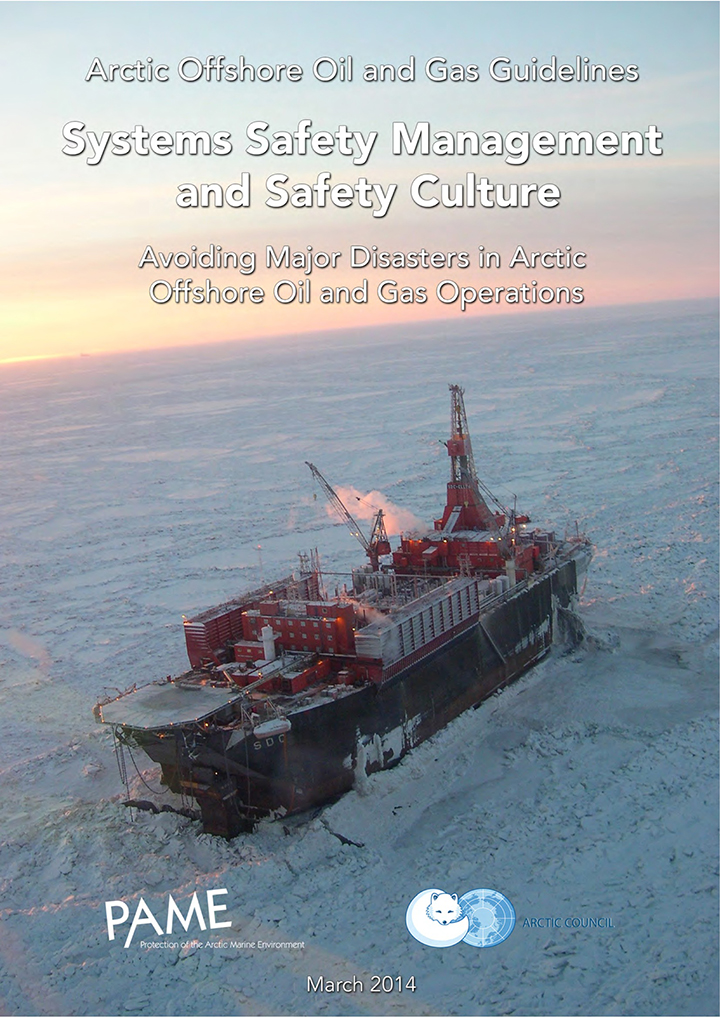 This Guidance document was intended to enhance and supplement the 2009 Arctic Council's Arctic Offshore Oil and Gas Guidelines (AOOGG), by focusing on providing tools and approaches for reducing the threat of catastrophic effects of major oil and gas related accidents, such as the 2010 Deepwater Horizon disaster.
Its purpose is to provide more targeted guidance on protecting the marine environment from major accidents by improving safety management systems and safety culture in Arctic offshore petroleum operations. PAME drew on investigations and recommendations from the Deepwater Horizon accident as well as numerous other investigations and hearings. The PAME Working Group also benefited from discussions and recommendations from two specific workshops involving international experts from governments, various industries, academia, indigenous peoples organizations, and other Arctic stakeholders.
The report examines the importance of the over-arching issues of Coordination among Regulators and Safety Culture and focuses on some key issues and challenges, as well as some recommended actions or approaches that regulators should pursue for improving system safety when regulating or influencing the safety of offshore oil and gas operations in the Arctic for the following nine (9) Safety

Management categories:
Continuous ImprovementRisk Assessment/Hazard Identification

Management of Change

Training and Competence for the Arctic

Accountability and Responsibility

Operating Procedures

Quality Assurance/Mechanical Integrity

Documentation and Reporting

Communications



Download English version (PDF)
Background Documents
1. Table of Recommended Actions or Approaches from the AOOGG Systems Safety Management and Safety Culture Report.
2. The Arctic Council Offshore Oil and Gas Guidelines 2009 Recommendations for HSE Management Systems

Supporting Documents
Disclaimer:
These documents have neither been reviewed nor endorsed by the Arctic state governments or PAME and, therefore, represent only the views of the various experts and authors that produced them. These documents have served the purpose of providing background information in the development of the AOOGG: Systems Safety Management and Safety Culture Report.

1.

Table of Safety Systems Elements in Regulations of Norway, Canada, Greenland and the United States, and of the PAME AOOGG 2009.
2.

Text of Regulations for 9 Selected Safety Systems Elements contained in Table A1 Appendix A.
3.

Findings and Recommendations of the HSE Management Systems and Safety Culture Workshops.
4.

Report for the HSE Management Systems Workshop
5. Report for the Safety Culture Workshop